The modern bicycle was developed in the early 19th century, which means the beloved two-wheeled machine is just over two hundred years old. Early versions of the bicycle were a far cry from what we see on our roads today, featuring wooden wheels and leather-covered tyres.These days, bikes are sleek and lightweight, the perfect vehicles for anything from a quick jaunt to the shops to a cross country cycle from Dublin to Sligo.
Despite their two century history on our roads, cyclists are unfortunately involved in a large number of accidents, so much so that they're classified by the Road Safety Authority as "Vulnerable Road Users". Even with increased cycle lanes and increased public awareness about cyclist safety, there is a high risk of accident and personal injury when taking your bike onto the roads.  
Bicycle Accident Compensation
If you've been involved in a bicycle accident, you may have experienced injuries, property damage or emotional distress. All of these things are difficult to deal with, and in cases where another party is at fault, you may be able to claim financial compensation for your troubles. The compensation you receive via a successful claim could help to cover any costs you might have incurred due to the accident.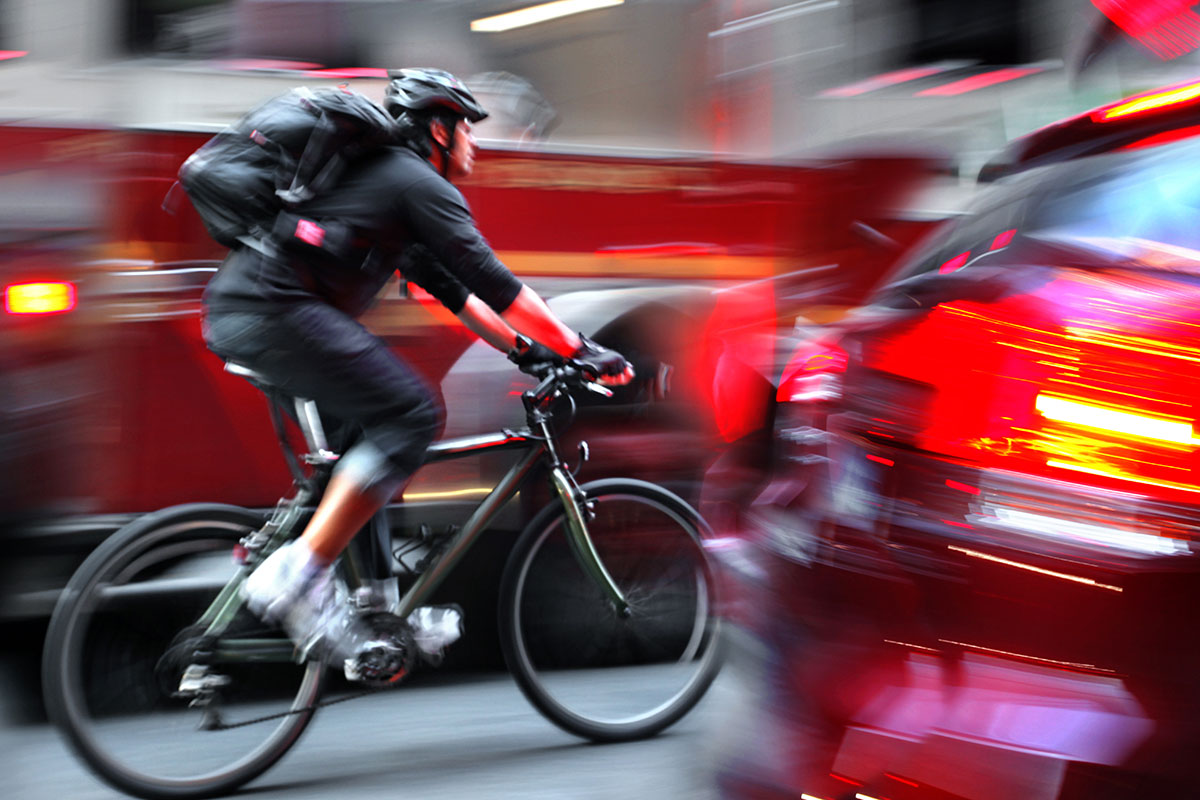 Bicycle accident compensation calculator
As each cycling accident and resulting injury is different, the compensation amounts that are awarded vary considerably. Some of the factors that are taken into account when deciding how much compensation is awarded for a claim are:
The severity of your injuries

The cost of physical or mental health care

Lost income through absence from work

Property damage (bike, helmet, phone, clothes etc)
Once the total financial cost of these and any other relevant factors are added up, a suitable compensation settlement will be awarded to you. Injuries are often the largest factor in the claim, as medical care is usually expensive. Typical compensation settlement estimates for injuries are as follows:
| Injury Type | Compensation Estimate |
| --- | --- |
| Forearm fracture | €5,000 – €20,000 |
| Femur fracture | €12,000 – €20,000 |
| Minor pelvis/hip injury€500 – €20,000 | €500 – €20,000 |
| Moderate neck injury | €12,000 – €23,000 |
| Spinal cord damage | €100,000 – €300,000 |
| Minor brain damage or head injury | €500 – €25,000 |
| Severe brain damage | Up to €550,000 |
Causes of Bike Accidents
Learning to ride a bike is a wobbly, tricky affair, and although they say you never forget how to do it, it shouldn't be forgotten how vulnerable you can be on a busy road as a cyclist. With only two wheels carrying you, all it takes is a small push or hazard in your path to knock you off balance. The dangers for cyclists on the road are many, with the following categories being the main causes of accidents.
Factors that may cause a bike accident injury:
Careless driving from other road users

Poor road conditions or other opticals

Bike malfunction
Bike accidents caused by other road users
The most common bicycle road accidents involve another vehicle such as a car or van, and can result from a number of situations. Common scenarios include drivers misjudging the distance between themselves and the cyclist, swerving across lanes at a roundabout, emerging too quickly from a junction without looking, or simply turning sharply across their path.
As well as accidents that occur while another road vehicle is in motion, bicycle crashes can also occur when people in parked cars open their door into the path of a cyclist. This is known as 'dooring'. Cyclists may also be forced into evasive action by another person's reckless driving, and fall off their bike even without any contact.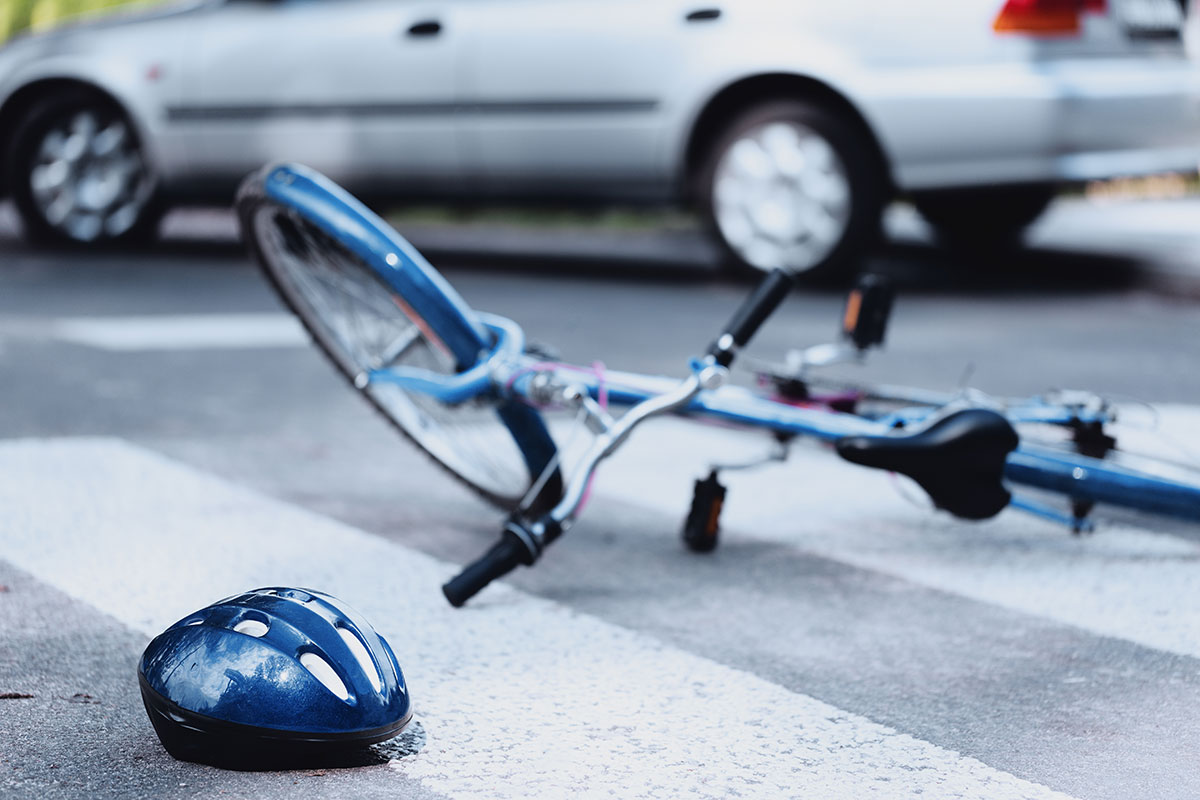 Dangerous overtaking
If you've ever cycled on the roads in Ireland, you've no doubt had an experience where a driver has passed by a little too close for comfort. The law states that: "A driver shall not overtake, or attempt to overtake, if to do so would endanger, or cause inconvenience to, any other person." 
Reckless driving that endangers cyclists is an offence, and should be reported to the Gardaí. Drivers who come too close to you on your bicycle risk causing an accident, and could face penalty-points and a fine of €80.
Bike accidents caused by equipment failure
Additionally, equipment failure like mechanical breakdown can cause sudden bicycle accidents. Irish law requires cyclists to fit their bikes with an audible bell, front and rear lights, reflectors and brakes, and it's recommended that you wear a helmet. As we all know though, equipment can malfunction, and if any one of those items fails to work during a bike ride there can be potentially tragic results. 
In the case of equipment failure, culpability can often be traced back to the manufacturer, who would then be liable for any damages awarded. If you've experienced a bicycle accident due to equipment failure or any of the above mentioned scenarios, you may be entitled to pursue these damages. 
Cycle paths
One of the reasons why people who have been involved in road accidents are reluctant to pursue compensation is that they believe they did something wrong. For example, if you collided with a vehicle while cycling on the road instead of a clearly marked cycle path, you might think that it was your fault for being in the wrong place. 
Not necessarily! While cycle paths are a welcome sight for cyclists, as they provide a safe haven on busy roads, it actually isn't mandatory to use one. The law requiring cyclists to use cycle paths where provided was repealed in 2012, and the only instances where you're legally required to use one are when it is a designated contra-flow type or a track through a pedestrian zone.
What to do if you're involved in a bicycle accident
As with any road accident, a bicycle crash can be an extremely traumatic event that can quite easily result in injury and property damage. If you're unfortunate enough to be involved in a bicycle accident, it's important to be aware of the steps you should take from the moment it happens. Making the right moves will ensure you have what you need if you decide to speak to one of our solicitors and pursue financial compensation.
Do not admit guilt
If you are involved in a road accident, many people may immediately take on responsibility for the accident. This may be due to shock, thinking you were in the wrong, being polite or just scared. 
You do not know the full facts at that moment and admit should not be given until a police report is taken and you have spoken with a solicitor. 
The other party could have been drunk, careless driving, driving without a licence, uninsured or a range of other factors that would put them at fault.
Seek Medical Attention for Injuries
If you have suffered an injury in a bicycle accident, it goes without saying that you should seek medical attention before you do anything else. If possible, call an ambulance to the scene, or ask somebody else to do it for you. 
Remember, the true scale of an injury can often be unclear initially due to shock and adrenaline, so not feeling pain is not a good indicator that you haven't been injured.
Even minor injuries like scrapes and cuts caused from contact with the road surface can turn nasty due to potential infection, so make sure you attend a local GP or hospital if you don't decide to call an ambulance.
Collect Information from parties involved
As we mentioned already, having the right information and evidence can be extremely helpful when the question of liability arises down the line. Therefore, you should do your best to record as many details about the bike accident as possible.
If there was a driver of a car or other vehicle involved in the accident, don't let them leave the scene without taking their details. 
The relevant information to collect is the name, address, registration and telephone number of the driver involved in the collision. If the vehicle is a bus or other public transport vehicle, note the operator's name and service number.
If there are any witnesses present at the scene, make sure to take the same details from them, as they may play a role at a later date in determining who was at fault.
Take pictures of the scene
Next, take a photo of the scene of the accident, and any damaged property. Your injuries will be recorded by the medical professional who takes care of you later, so focus on getting a good photo of your bicycle, and recording any damage to it. Leave it where it landed, and note the position of the vehicle involved in the crash. If you were in a cycle lane, note the distance of the driver's vehicle from the white line marking it.
If the accident was caused by poor road conditions, take a photo of the exact spot where the hazard can be found, and note the name of the road.
Report incident to the Garda
Finally, when the Gardaí arrive at the scene, note the name and number of the Garda to whom the collision was reported. The filing of a Garda report is an important part of an insurance claim. You can also ask for the Pulse Log ID for the Garda's incident report, which ensures it makes its way into their system.
How we can help
At Baxter Mimnagh Solicitors we pride ourselves in obtaining the best possible results for our clients while at the same time, making the process as straightforward and as clear as possible. If you've been involved in a bicycle accident and require expert advice or assistance, contact us today. Our team will do everything necessary to help you claim rightful compensation for your present and future needs.